Welcome to Earl Giles Distillery
Located in the heart of Northeast Minneapolis, we offer the perfect destination for friends and family to gather, share stories, and enjoy unique flavors paired with great atmosphere and even better hospitality.
Join us today!
Monday -Thursday 3pm - 10pm
Friday, Saturday 11am - 11pm
Sunday 11am - 10pm - The Story of Earl Giles -
To some, rules are merely suggestions.
It might surprise you to learn that Earl Giles is much more than a Minneapolis Distillery. During prohibition, Earl Giles would fly his floatplane all over North America to deliver liquor. He did this by cleverly dispensing alcohol into apothecary bottles. In doing so, he was able to successfully transport liquor under the guise of medicine.
Learn more about the exciting adventures of Earl Giles, and how we're continuing his legacy.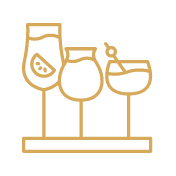 We are very excited to invite you into our space where you'll enjoy thoughtful food, delicious drinks, and a fun, authentic experience. Stay tuned on our opening date, we can't wait for you to join us!