We're calling it Cocktail Cologne: an aromatic garnishment. Globally sourced, this cocktail garnish spritz is a blend of the finest flavors and natural extracts. After your cocktail has been constructed and it's missing the "one thing", take this essence and spritz it over the top of the cocktail to give it an amazing aroma.
*Also part of our Highball Beverage Kit*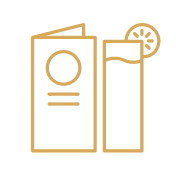 Want to stand out
from the rest?
We have an infinite amount of concentrations at our fingerprints, which means there's no limit to what we can create and bottle for your restaurant, bar, or at-home selection.